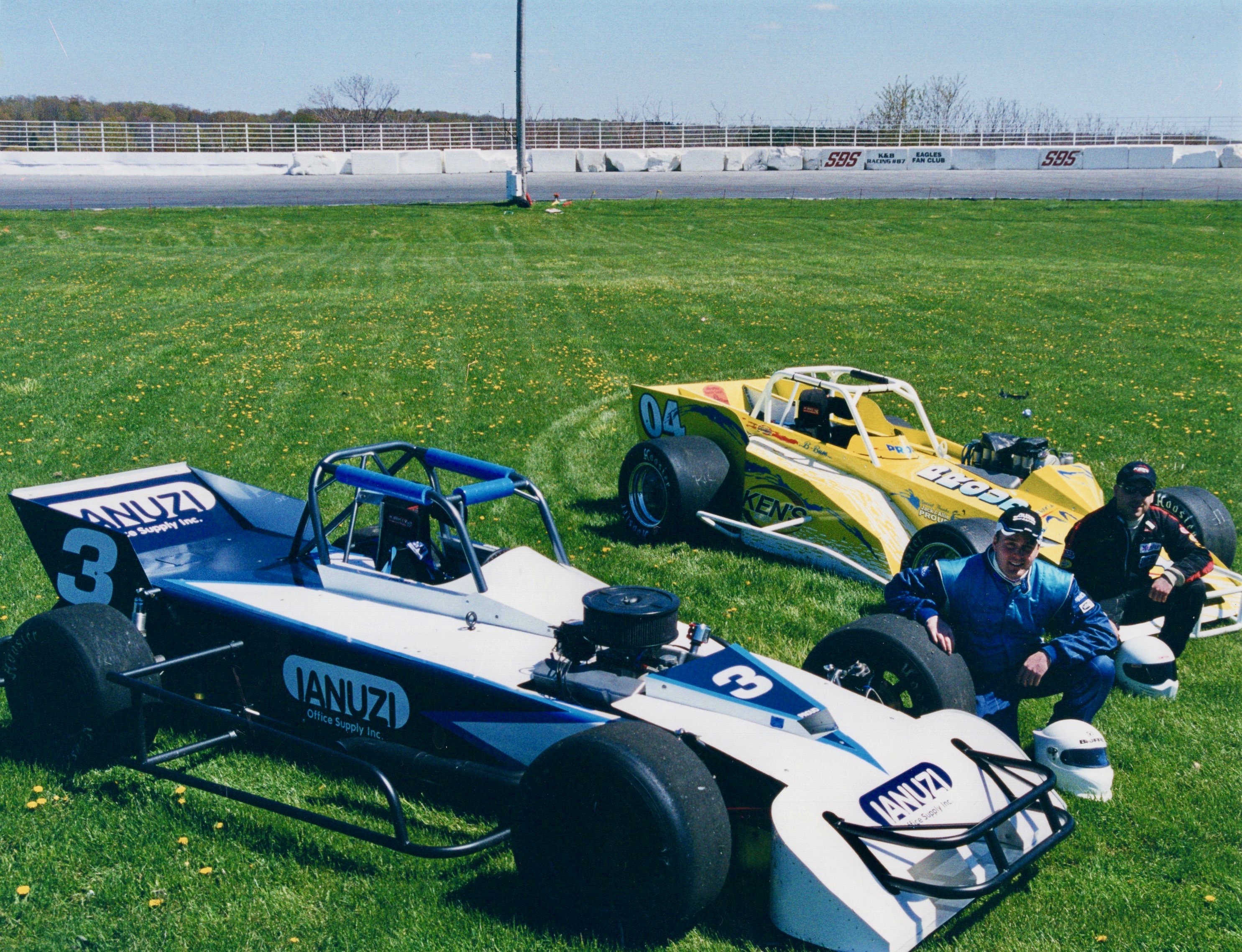 OSWEGO, NY (September 7, 2017) - With a successful 2017 Oswego Speedway SBS campaign in the books that saw three second place finishes, seven top five finishes, eleven top ten finishes and a third place effort in the championship standings for fourth year driver Camden Proud, the team's attention now shifts to next Sunday, September 17th's Lighthouse Lanes SBS Series event at the Evans Mills Speedway.
Once again, car builder Tim Proud will see action for just the third time in the past twelve years, attempting to bring home his first career Small Block Supermodified feature win behind the wheel of the Step One Creative No. 54 normally driven by his son.
Tim's return to the driver's seat on Sunday will also come with a special twist, as his brother Chris will be back in action for the first time since Classic Weekend of 2015 with the Martin's Contracting No. 3 Proud Chassis, which is the older car also built by Tim and campaigned by Chris from 2001 to 2006 and once again from 2012 to 2015. 
Between the two cars, Chris and Camden have gathered nearly ninety top ten finishes for Tim as a car builder while Proud himself, both a former Limited Supermodified and Supermodified competitor, has garnered nine Oswego top ten finishes, multiple heat race wins, and second place finishes in his own SBS career between 1994 and 1997. 
Tim is looking forward to the weekend, attempting his first feature event since 2004 after nabbng a heat race win in his first Oswego Speedway start in over a decade last Fall. Both the September 2016 Race of Champions event at Oswego and the May Meltdown at Evans Mills, also attemped by Proud earlier this season, rained out prior to the feature events. 
"It's been fun going racing again. We had a really good car at Evans Mills this year before the rains came and I believe that we can be a threat to win the feature next Sunday," Proud offered. We've made a few changes to get me more comfortable in the car, so I hope that helps us out this time and we have a good run. It's been a really long time, but the most important thing is to take all of this in and have fun with Camden and my brother."'
Chris is also looking forward to his return to racing action, as the eight-time Oswego Speedway feature winner; who was recently voted amongst the top 25 all-time drivers in Small Block Super history, will be making a rare start at Evans Mills, a track both he and Tim competed at in the early stages of their careers.
"It's been quite awhile since I ran at Evans Mills. The last time was to get experience when I got my first Limited," Chris recalled "This weekend, I'm just going to try to have fun and hopefully we can still be competitive. I've spent a lot of years at the track with Tim and racing against him for bragging rights should be a good time. My kids would really like to see me win one more race, so maybe I can get it done for them."
Chris, who was the Limited Supermodified Rookie of the Year in 2000, pitted alongside Tim in his Supermodified days at Oswego, before Tim got out of full-time racing in early 2002, but later returned to pilot Chris's No. 3 to a fifth place finish on Race of Champions Weekend thirteen years ago - his most recent feature event to date. Both of the Proud brothers are in search of their first top five effort at Evans Mills next weekend.
Joining the Small Block Supermodifieds on the Sunday, September 17 Evans Mills schedule will be the Mills Modified, Legends, Bandolero, Thunder Stock, 4-Cylinder and 4-Cylinder truck divisions. 
Pits open at 11:30am, heat racing is set to begin at 3pm, with hot laps at 1pm. Feature action will follow the preliminary races. General admission tickets are just $10 and can be purchased at the gate. Kids 15 and under are FREE at the Evans Mills Speedway. Pit passes are $25. For more information, log on to EvansMillsSpeedway.com.
For more information, be sure to visit online at ProudMotorsports.com. You can also FOLLOW on Twitter @ProudMtrsports on LIKE on Facebook at Facebook.com/ProudMotorsports. To discuss sponsorship opportunities, email a team representative at proudmotorsports@gmail.com.