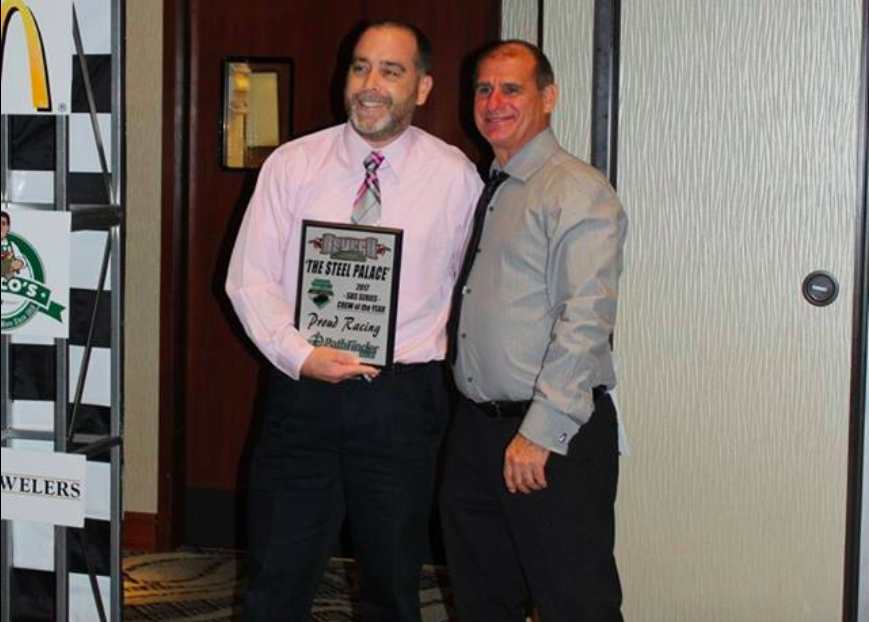 OSWEGO, NY (November 7, 2017) - 18 year-old Camden Proud and family celebrated what was his best Oswego Speedway season yet this past weekend at the track's year-end banquet held at the Lake Ontario Event and Conference Center in Oswego.
The former SBS Rookie of the Year drove to a total of eleven top ten finishes, seven top five finishes and an astounding three second place efforts in 2017, good enough for a third place effort in the overall Road to the Championship for the Pathfinder Bank SBS division. Taking part in a dual role as driver and the track's PR director, Proud was elated to pick up his third place plaque surrounded my his supportive family, friends, and crew.
"It meant a lot to achieve one of the big goals we had prior to 2017 which was a top three in the Road to the Championship," Proud said. "Between coming in with a new powerplant from Finger Lakes Machine, my Dad's constant fine tuning in the shop, and a little luck, it was a great year for us and I'm proud to have the success we do with a homebuilt race car. The next step is getting that first championship and feature win. I really need to thank my sponsors, crew, family, friends, and fans who support me week in and week out."
During the banquet; the Proud team, specifically owner and chief wrench Tim Proud, received several special awards which are distributed annually by the Speedway. For their efforts this year, Proud Motorsports was declared SBS 'Crew of the Year,' something that means so much to Tim.
"We are a small team," said Proud, a former Supermodified pilot who came out of retirerment to race this season. "It's just me, Camden, my wife Debbie, Alex Borland, Doug Zupan, and Scott Lord. The Bowman family helped us a lot, my parents, Jack and Allie Proud. We have a lot of great individuals who support us and lend a hand. This is very unexpected and its things like this that make the hard work pay off."
Camden shared in his father's excitement, noting, "My crew really had to step up this year. With me doing little to nothing at all on the car, traveling to dirt races for my website, plus practically living in the speedway office for my PR job, this is for my Dad and all the people who work on the 54. This is about so much more than me. It's for everyone who has helped me out the past four years and of course my Dad. Thanks to all those guys."
To cap off the night, Tim was awarded one more special honor and it was one that paid tribute to a longtime friend and former Oswego Speedway racer Tony White, who tragically passed away following a Small Block Supermodified event in 2005. This award, the Tony White Memorial Award, is given to a random individual each year by Wayne and Debbie White, Tony's brother and sister in law.
Very emotional, Tim was unable to discuss what winning this award meant to him on stage at the banquet. However, the White family noted he was chosen as the award recipient for his "dedication to the sport and willingness to help others."
Reflecting, he said "The White Family has done a lot for us. They've supported our team with fundraising and cheered Cam on. They are great people. It is my honor to have been chosen for this award. Tony was a great friend and a great person. My brother and I shared a lot of laughs with him in the pits and he was just a fun guy to be around. To accept this in his honor means the world to me. I was speechless at the banquet and just want to extend a huge thanks to the White family and all they do for the Oswego Speedway."
With the banquet in the books, attention now shifts to preparing the new body and color scheme on the Step One Creative No. 54 Small Block Super ahead of 2018, something Tim and Camden are already hard at work on. 
Oswego Speedway's 2018 season begins with Open Practice on Saturday, May 19th followed by the 68th annual Opening Day on Saturday, May 26.
For more information on Proud Motorsports, be sure to visit online at www.ProudMotorsports.com, LIKE on Facebook at Facebook.com/ProudMotorsports, or FOLLOW on Twitter @ProudMtrsports.