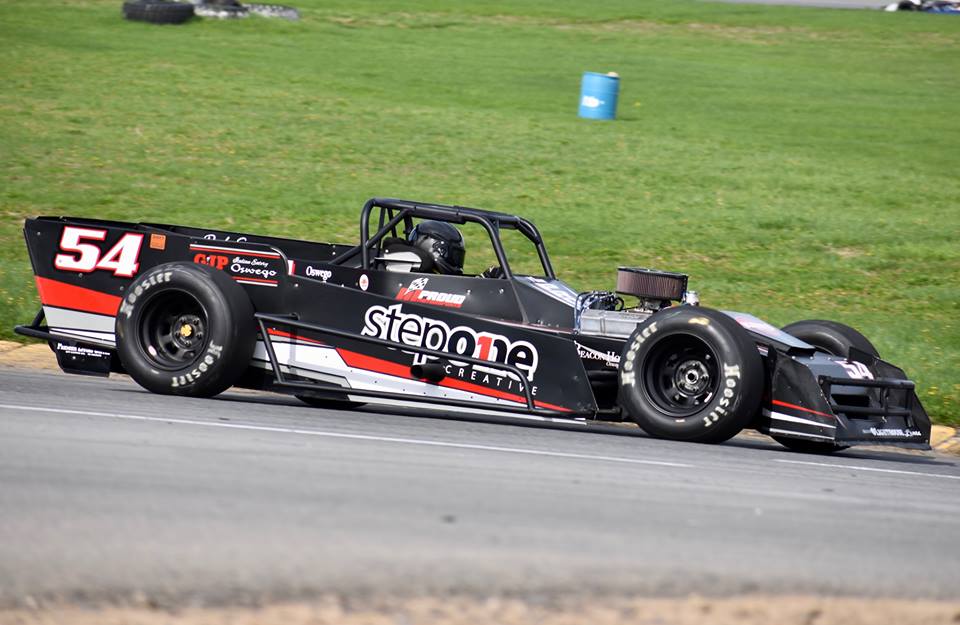 OSWEGO, NY (May 13, 2018) - After showing speed all afternoon long, things did not pan out how Proud Motorsports and temporary driver Tim Proud would have liked this past Saturday at Evans Mills Speedway.
Following an impressive showing in last September's 'Fall Brawl,' Proud, the team owner, was back in the seat of the Step One Creative No. 54 for the 30-lap Lighthouse Lanes SBS Series 'May Meltdown' event at the Jefferson County speedplant.
Proud started out his day second and third fastest in each of the track's hot lap sessions for the sixteen Small Block Supermodfiieds in attendance, beginning to bring promising thoughts ahead of preliminary action.
After drawing a 27 for his heat race starting spot, Proud lined up on the inside of row two for the first of three 10-lap heat races and stayed in third all race long behind Russ Brown and David LaTulip, unfortunately missing out on the top two redraw for the 30-lap main.
With the front six spots in the feature reserved for redraw cars, Tim was forced to line up seventh for the 'May Meltdown,'bbut not before a few changes took place prior to the nightcap, which Proud Motorsports had very high hopes for leading up to the weekend.
"The car actually felt best in the first hot lap session which was with our older tires that had last year's Classic and the Fall Brawl on them," Proud mentioned. "We put new ones on for the second session and it didn't feel as good, then we were extremely loose in the heat race. I had a hard time getting on the throttle, so we decided to switch back to the older rubber for the feature and made a few other adjustments to see what that gave us."
With a stout top six of Brown, LaTulip, track owner Vern LaFave, defending 'Fall Brawl' champ Dave Cliff, Brad Haynes, and Anthony Losurdo all ahead of Proud and many more pressuring from behind, Tim had his hands full in the early stages of the 30-lapper.
Settling in the 7th spot for the first ten circuits, a restart on lap 11 allowed Proud the chance to slip by Cliff, who had fallen out of the top five. Tim was up to sixth, but unfortunately would not stay there for very long.
On lap 16, Haynes pushed wide in turns one and two, opening the door for Proud to make a run at the fifth spot, but the rear end broke loose on the No. 54, sending Tim into a 360 degree spin off turn two. The car sustained no damage.
Although Proud did return to the field for five more laps following the ensuing restart, the chief wrench on his son's regular Oswego ride decided it was best to pull the Step One Creative backed machine into the pits despite picking off a handful of spots to get back up to 11th before retiring from the action on lap 21.
"I wanted to stay out after we spun because I thought we could at least get back up to the top five or so, but nothing was going in our favor tonight," Proud said. "We took a gamble on the old tires and it didn't pay off. The car was extremely loose on acceleration and as soon as I tried to fill the gap on the 86 it just came around me. I felt I was sort of just hanging on and not going anywhere, so I decided to pull in and keep the car in one piece for Camden at Oswego."
Although the result does not reflect the potential shown on the race track throughout the evening, Proud was credited with a lackluster 12th place finish in only his second feature event since 2004. The team now shifts focus to Open Practice at Oswego on Saturday, May 19 with Camden back behind the wheel, while Tim is anticipating a return to the seat at the next Lighthouse Lanes SBS Series event which will be held at the Spencer Speedway June 29.
"With this Evans Mills show out of the way, all of our focus is moving over to Oswego, but we would like to run Spencer in June if possible," Proud stated. "I think if the car was running as well as it did last September, we could have won tonight, but it is what it is. Tires were the key and we were just not where we should have been. The car has been quick every time we've brought it up north, so we will come back and try again in the Fall Brawl this September."
With Open Practice at Oswego this coming weekend, the 2018 points season will get underway for Proud Motorsports on Saturday, May 26 which will bring the 68th annual Opening Day at the 'Steel Palace' featuring the Tony White Memorial 35 for the Pathfinder Bank SBS.
For more information on Proud Motorsports, be sure to visit online at ProudMotorsports.com. You can also FOLLOW on Twitter @ProudMtrsports or LIKE on Facebook at Facebook.com/ProudMotorsports.
Proud Motorsports is PROUD to be sponsored by: Step One Creative, Ken's Body Shop, GJP Italian Eatery of Oswego, Beacon Hotel, Oswego Quality Carpet, Budget Signs, Dino's House of Burgers, O'Connors Main Street Pub, Xpress Auto Care, Compass Credit Union, CentralNewYorkMotorsports.com, Premier Living Suites, Top Quality Construction, and Lighthouse Lanes.