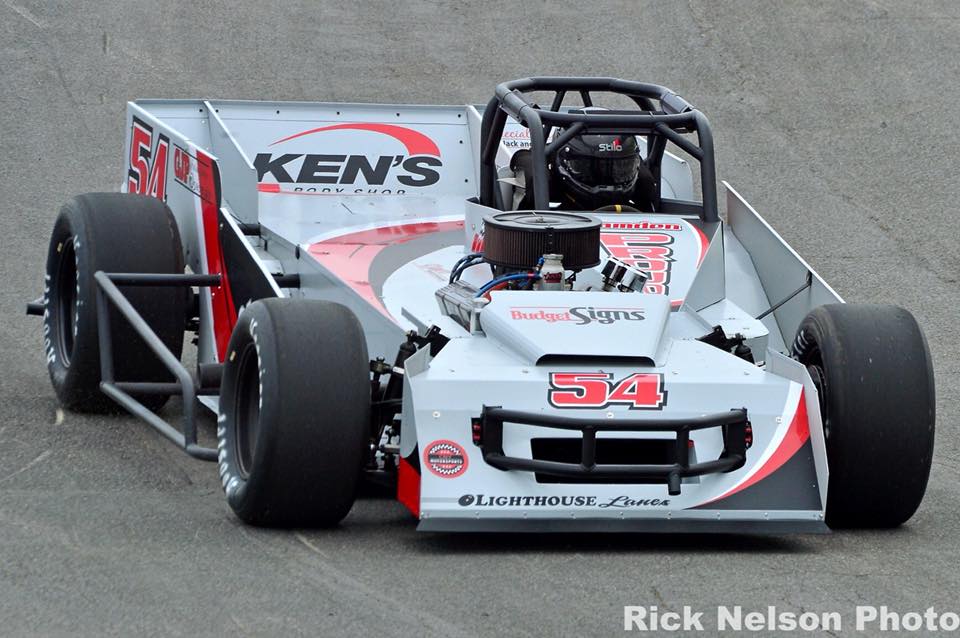 OSWEGO, NY (May 21, 2018) - Proud Motorsports and fifth year driver Camden Proud unveiled their 2018 Step One Creative design at Oswego Speedway's Open Practice session this past Sunday, May 20 and by the end of the afternoon, the now flat grey No. 54 was sixth fast overall and turning laps at 19.0 seconds.
Practice was originally scheduled to take place on Saturday afternoon, but was moved to Sunday instead due to lingering showers and storms around the area.
After a successful reveal of the new look live on Facebook a day earlier, Proud brought his beautiful ride to the track and was able to find some solid speed by the end of the afternoon to lead the final Small Block Super session of the day.
"We struggled early on, but by the end of the day on about eighty lap old tires we got down to 19.0 which is pretty much right where I wanted to be," Proud said. "The driver was a little bit rusty. It's been a long offseason, but I want to thank my crew for making the correct adjustments all day. We are in great shape for Opening Day this Saturday and know what we have to do to be quicker."
Following an explosive 2017 season which included a third place effort in the championship, three second place finishes and six top five runs, Proud will continue to search for his first career feature win in the family owned ride this weekend when Oswego Speedway opens its 68th season with the Tony White Memorial 35 for the Pathfinder Bank SBS. Racing will start at 4pm. Tickets are available by calling Oswego Speedway at (315)-342-0646.
For updates throughout the week and at the track, be sure to visit online at ProudMotorsports.com. You can also FOLLOW on Twitter @ProudMtrsports or LIKE on Facebook at Facebook.com/Proud Motorsports.
Proud Motorsports is PROUD to be sponsored by: Step One Creative, Ken's Body Shop, GJP Italian Eatery of Oswego, Beacon Hotel, Oswego Quality Carpet, Budget Signs, Dino's House of Burgers, O'Connors Main Street Pub, Xpress Auto Care, Compass Credit Union, CentralNewYorkMotorsports.com, Premier Living Suites, Top Quality Construction, and Lighthouse Lanes.