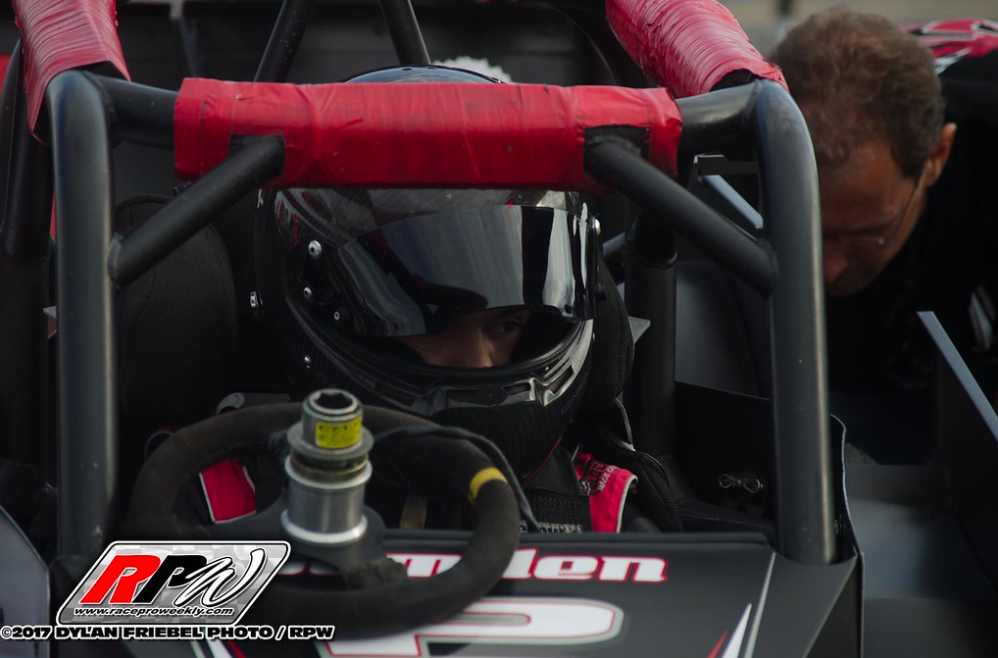 OSWEGO, NY (June 4, 2018) - After opening up his fifth full-time season at Oswego Speedway with a sixth place finish in the Tony White Memorial 35 on May 26, Camden Proud will make his 54th career start behind the wheel of the Proud Motorsports, Step One Creative No. 54 this Saturday, June 9.
In 53 total events at the speedway, Proud has amassed seven podium finishes, thirty seven top tens, and six heat race wins including five second place finishes in his family built machine.
Heading into the A&P Auto Parts 'Spring Championship' 30 sixth in points after just missing out on a top five two weeks ago, the former Small Block Super rookie of the year is hoping for a lot of improvement on week two.
"We started with a quick time trial lap and solid heat race, but I struggled in the feature May 26," Proud commented. "The Opener was kind of a waste. As a driver, I was off, but we have a very good Step One Creative car. Hopefully this weekend I can reflect that more on the track. You don't like to wait all year long to race and then start the season off with missed opportunities."
With Proud Motorsports hoping to put the team's Hawk Chassis Supermodified addition on the track for testing next month, Proud will aim to switch over to full-time big block competition for 2019. Planning to move on from the Small Block Supers, the primary goal this year for the teenaged driver is putting the No. 54 in victory lane before the season comes to a close.
"Winning a feature is my main focus," Proud said. "Winning has always been the primary goal, but last season we did a lot of points racing. I put a ton of emphasis on the championship and we showed we could contend for it by finishing third. That was a great accomplishment, but I think putting so much thought into that aspect of things can sort of take away some of your aggressiveness or opportunity to get out front and compete for wins."
Notably, when Classic Weekend rolls around on Sunday, September 2, Proud will aim to pull 'triple duty' competing in the Supermodified, Small Block Supermodified, as well as a 350 Supermodified in the 35-lap '350 SMAC' Classic. He hopes by then Proud Motorsports will have finally broken through for a main event victory.
"It's going to be a busy Classic Weekend," Proud noted. "I'd hate to head into the last race of the season and not have a victory with the 54. The 75-lapper is not an easy one to win in, but none of them come easy. I want to put Dad's car in the winner's circle. We've been so close so many times, so every week that's the goal. If we finish up front, the point standings will reflect that and we have to let them fall wherever they fall. I have a good package underneath me to end all this talk about a 'first win' and instead have to get up on the wheel and make it happen."
'Spring Championship' action at Oswego Speedway presented by A&P Auto Parts is set to get underway at the regular start time of 6:45pm this Saturday night, June 9, with time trials for the Pathfinder Bank SBS and Novelis Supers taking place at 6:15pm. General admission seating is available for just $15 with kids 16 and under FREE.
For more information on Proud Motorsports, be sure to visit online at ProudMotorsports.com. You can also FOLLOW on Twitter @ProudMtrsports or LIKE on Facebook at Facebook.com/ProudMotorsports.
Proud Motorsports is PROUD to be sponsored by: Step One Creative, Ken's Body Shop, GJP Italian Eatery of Oswego, Beacon Hotel, Oswego Quality Carpet, Budget Signs, Dino's House of Burgers, O'Connors Main Street Pub, Xpress Auto Care, Compass Credit Union, CentralNewYorkMotorsports.com, Premier Living Suites, Top Quality Construction, and Lighthouse Lanes.