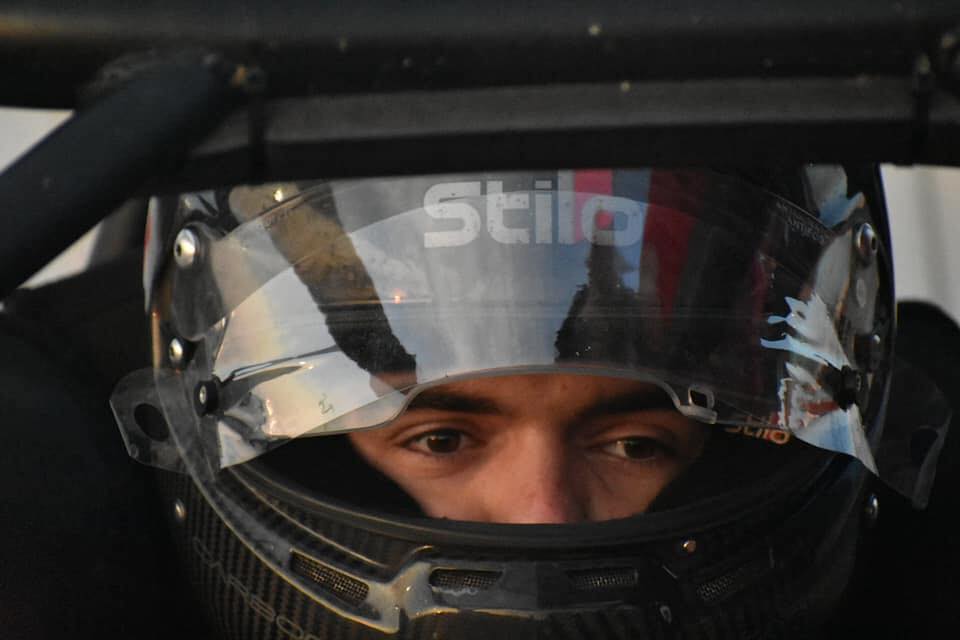 OSWEGO, NY (July 31, 2018) - Following preparation that has lasted nearly the entire summer, Proud Motorsports and Ken's Body Shop are just about set to bring the former Strong Racing Supermodified back to Oswego Speedway for the upcoming 'Fast Friday' practice session scheduled for August 10.
Meanwhile, Pathfinder Bank SBS veteran Camden Proud is readying for his first ever laps in the family ride, co-owned by himself and father Tim Proud. The car is being put through the remaining stages of assembly right now before being placed on the floor for setup ahead of Proud's first hot lap session next weekend.
"We had hoped to debut the car at this week's Fast Friday August 3, but we are going to fall just a little bit short of that," Proud said. "Everyone has worked really hard. Huge thank you goes out to my Dad, Mom, Scott Lord, Brent Murray, Steve Whalen, Chris Proud, Mark Proud and all of the people who have put a countless amount of time and effort in to make this happen."
Following his initial track time with the renumbered racer, which will be retrofitted to sport one of Tim Proud's former Supermodified schemes from the late '90's, Camden will then eye his first ever start in the Budweiser International Classic 200 this coming Labor Day Weekend on Sunday, September 2.
"The primary goal this season is to qualify for the Classic," Proud commented. "We have a lot of work to do. Right now my intent is to take it one lap at a time and simply get acclimated to what will be an entirely different driving style for me. We plan at least two more practice sessions prior to the Classic and perhaps one race depending on how my progress is going. Seat time is the key. This is going to be a big learning curve for all of us."
Next week's Fast Friday session at the Oswego Speedway will take place from 4 to 8pm and grandstand gates will be open to the public for anyone interested in spectating the session or taking a peek at the new look on Proud's Hawk Chassis made possible thanks to Chris Proud, Step One Creative, and Budget One Hour Sign Systems of Syracuse.
"We'd like to extend a special thanks to Chris Proud, Mark Proud, and Adam at Budget Signs for their efforts in making our throwback scheme come to life," Proud added. "Chris has put tons of hours in wrapping the body for us, Mark did a fantastic job designing it, and I can't thank Adam enough for hooking us up with the graphics. I think the look we are going to bring out will kind of surprise everyone. I'm very excited to get on the track. My Oswego experience should work in my favor, so hopefully I am able to improve with each and every lap."
As for the Step One Creative No. 54 Small Block Super, Proud's 2018 season in the Pathfinder Bank SBS division will continue this Saturday, August 4 as part of JP Jewelers 'Retro Night' at the races which will feature a 30-lap main event for the Small Blocks.
In seven total events this season, Proud has brought home five top ten finishes including one top five run to put the fifth year campaigner eighth in the point standings.
Despite turning his career best lap of 18.647 seconds as part of time trials for Mr. Pathfinder Bank SBS two weeks ago, the 19 year old says he is nowhere close to where he'd like to be and hope his family's Small Block program will take a turn for the better as the closing stages of the season approach.
"We have only four regular features left this year and I had hoped to be battling for a championship, but we are nowhere close to that," Proud admitted. "It's been one of those seasons. Every time we've started up front, we've been involved in a jingle, or had something go wrong with the car. After finishing second three times a year ago, I had hoped this was finally the season we'd break through for a victory. We are on the cusp of one right now and certainly fast enough to do so. We just need a little luck to fall our way."
After driving from sixth to second in his qualifying heat race on July 21, Proud stormed from his fifth starting spot to second early on in the 27th running of Mr. Pathfinder Bank SBS, only to lose the handling on the car midway through the race, in turn causing him to fall back to the fifth spot following contact from behind in turn 1.
"When we turned 18.6 and got to second right away, I really thought July 21st was our night," Proud added. "Unfortunately it wasn't meant to be. The car got too loose and Mike (Bruce) was just fast enough where I couldn't find a way around. We got bumped up the track out of second, fell back to fifth and then I caught the kill switch on my arm with three to go and cost myself a top five as well. It was frustrating to say the least, but we're moving on and can hopefully get out of the funk this weekend. It's been a solid SBS career for me, but I want to go out of this class with a win under my belt before moving on to the Super in 2019. That's the big goal."
This week's racing action at Oswego Speedway will get underway at 6:45pm with heat races for the Small Block Supers. General admission tickets are just $15 and can be purchased by calling the speedway box office at (315)-342-0646. More information is available at OswegoSpeedway.com.
For the latest updates from Proud Motorsports, be sure to visit online at ProudMotorsports.com. You can also FOLLOW on Twitter @ProudMtrsports or LIKE on Facebook at Facebook.com/ProudMotorsports.
Proud Motorsports is PROUD to be sponsored by: Step One Creative, Ken's Body Shop, GJP Italian Eatery of Oswego, Beacon Hotel, Oswego Quality Carpet, Budget Signs, Dino's House of Burgers, Brandon's Pub + Grille, Xpress Auto Care, Compass Credit Union, CentralNewYorkMotorsports.com, Premier Living Suites, Top Quality Construction, and Lighthouse Lanes.
Season Stats - Camden Proud (Step One Creative No. 54 Small Block Super):
Starts - 7
Top 5's - 1
Top 10's - 5
Season Highlights - 
Qualified second fast for Mr. Pathfinder Bank SBS with career best lap of 18.647 seconds on Saturday, July 21.