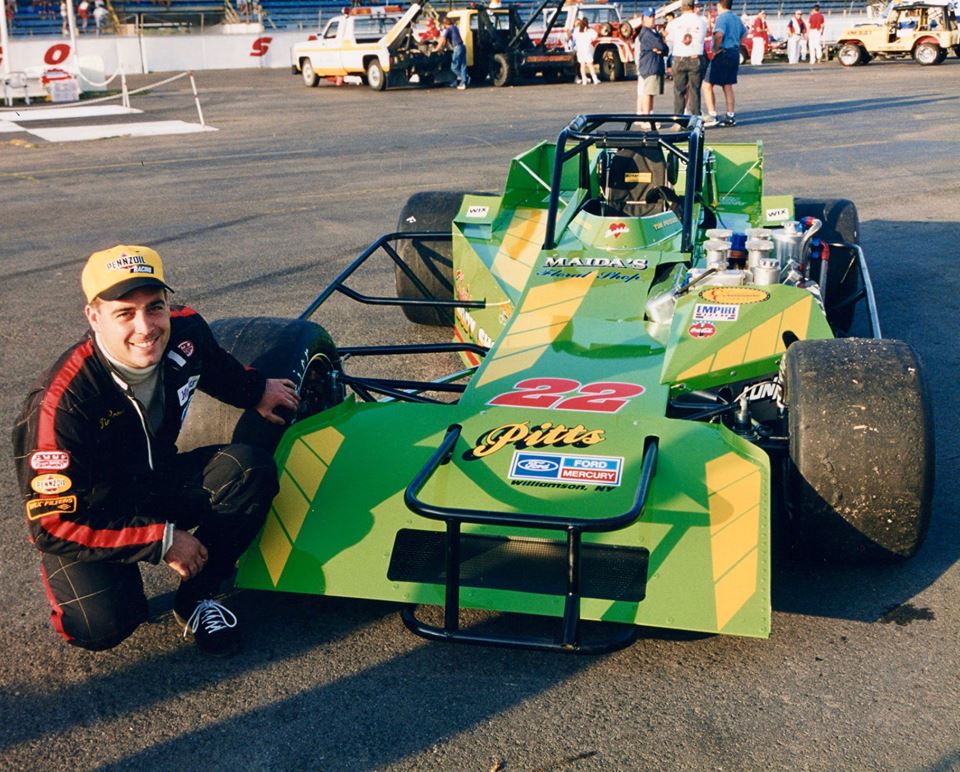 OSWEGO, NY (August 10, 2018) - After purchasing the former Strong Racing No. 99 Supermodified this past March, Pathfinder Bank SBS veteran Camden Proud is ready to hit the track for his first ever laps with the renumbered No. 22 machine sponsored by Ken's Body Shop, Step One Creative, and Budget Signs later today at Oswego Speedway's 4 to 8pm 'Fast Friday' session.
Fans may recall Proud's intent to attempt a throwback scheme to his father Tim's 2002 No. 04 machine, but as the team began to assemble the Hawk Chassised racer a few weeks earlier, Proud found that this may proove difficult and decided to go with the alternative option of the green No. 22 ride which was driven as part of Tim's first ever Supermodified effort in 1998.
"A lot of you may recall us planning a throwback scheme to my Dad's No. 04 car soon after we made our purchase from the Strongs. As we started assembling things a few weeks ago, it became apparent to us that painting a new color over the powder coat on our frame, bumpers, nerf bars, etc. to make that work would prove very time consuming, not to mention perhaps ruin the entire coat anyway," Proud explained. "Instead, I've done my best to keep it a secret, but I'm excited to share that we will be at the track with the green Ken's Body Shop No. 22 today."
The new scheme, which was made possible by the tireless efforts of Chris Proud at Integrated Marketing Services in conjunction with Step One Creative and Budget Sgins of Oswego, mimics Tim Proud's '98 livery. Proud made his first ever International Classic start in 2000 as No. 22 as well.
"The scheme is a close replica to my father's car from 1998," offered Proud. "He also started his first Classic with this number and both my sister and I raced it in quarter midgets so it means a lot to me. It was my idea to honor Dad with a throwback scheme to thank him for all his years of dedication to our favorite pastime, not to mention all of the hours and sacrifice that have gone in to making my ultimate dream in motorsports come true; to be proud owners of a Supermodified together. Doing this would not have been possible if it weren't for the tremendous effort between Chris Proud, Step One Creative, and Budget Signs. Thanks to all of those guys."
Following nearly five years in the SBS ranks for the former rookie of the year which have included seven podium efforts including five second place finishes, thirteen top fives and forty eight top tens, Proud is looking forward to the learning curve of the Supermodified ahead of his first attempt at qualifying for the Budweiser International Classic 200 this September. The 19 year old speedway PR director is also still hoping to pick up his first career victory in the Step One Creative No. 54 Small Block Super before season's end.
"I am very much looking forward to soaking this experience in, learning, and most importantly having fun later today," Proud said. "I don't think it will really sink in until I'm being pushed off, but I can not remember the last time I've been this excited. The goal is to just take it one lap at a time and get as comfortable as possible. Hopefully we can make some good progress as we look ahead towards Classic Weekend. and I'm also hoping for a good run tomorrow in the Twin 20's with our small block car. It should be a very memorable weekend for our family."
For trackside updates this weekend both during the race onSaturday as well as throughout Proud's Supermodified debut this afternoon, you can visit ProudMotorsports.com, LIKE on Facebook at Facebook.com/ProudMotorsports or FOLLOW on Twitter @ProudMtrsports. The team will unveil the No. 22 machine at the track around 4pm on Friday.
Proud Motorsports is PROUD to be sponsored by: Step One Creative, Ken's Body Shop, GJP Italian Eatery of Oswego, Beacon Hotel, Oswego Quality Carpet, Budget Signs, Dino's House of Burgers, Brandon's Pub + Grille, Xpress Auto Care, Compass Credit Union, CentralNewYorkMotorsports.com, Premier Living Suites, Top Quality Construction, and Lighthouse Lanes.