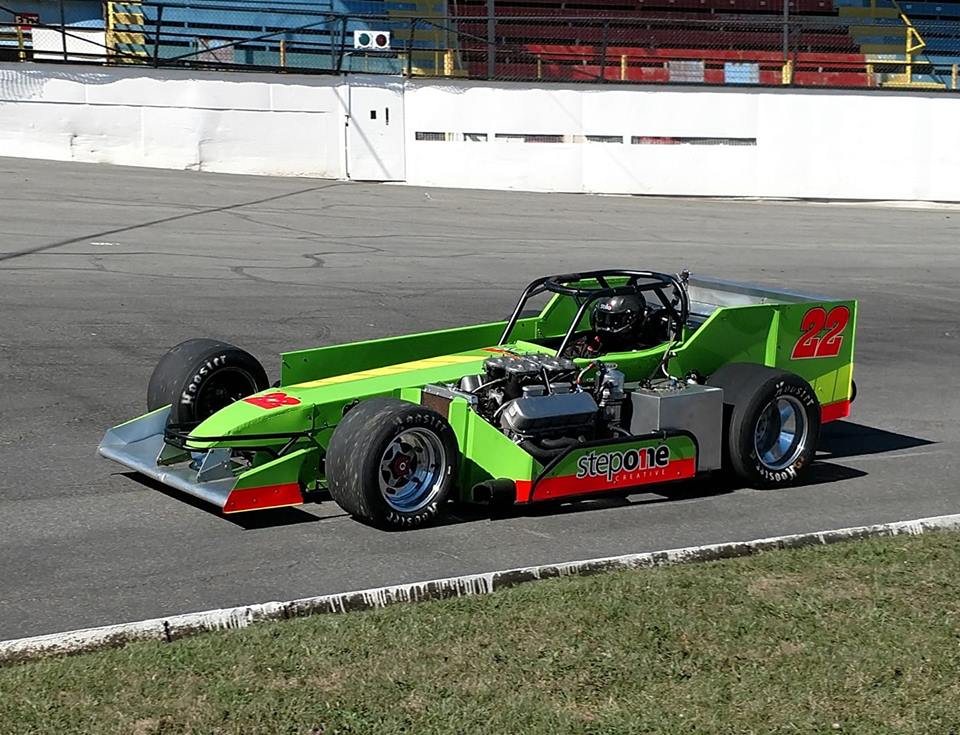 OSWEGO, NY (August 17, 2018) - Just over a week after turning his first ever laps behind the wheel of a Supermodified, Camden Proud is set for more testing today with the Ken's Body Shop No. 22 machine before planning to take both the big block as well as the Step One Creative No. 54 SBS to the track for CNY CPR & Skip's Fish Fry Track Championship Night tomorrow evening.
Proud's first Supermodified laps were a success at 'Fast Friday' testing one week ago as after completing less than 50 laps up to speed, Camden quickly found the 17.3 second bracket with the green No. 22 machine retro-fitted to sport his father Tim's 1998 Supermodified livery.
"It was a very good initial test with the Super last weekend," Proud said. "Taking my first laps in a Super was unreal and certainly something I won't soon forget. We were able to turn some respectable laps and I was pleased with the way I adapted to the difference in driving style. With that being said, we still have a steep learning curve and a huge deal of work ahead to get myself more comfortable in the car before Classic Weekend. "
After unloading the Supermodified, Proud Motorsports then turned attention over to the Pathfinder Bank SBS ranks on Saturday, August 11. Camden again found himself time trialing second fast out of the 23 cars on hand last weekend with another lap of 18.6 seconds. Proud went on to grab third in his heat race and later finished eighth in each of the Twin 20's for the Small Block Supers.
"We were able to show great speed with the 54 last Saturday, but had a tough go of things in both features," Proud commented. "It's that time of year when the track changes considerably from day to night. It really slicked off, and there just wasn't much passing in the SBS races. I think with a better starting position, we were a top five car in both main events. That was the key last week. Hopefully that will work in our favor for the last regular show of the season."
With Championship Night on tap for Saturday, Proud sits in eighth in the points race for the Small Block. Preparing to test his Supermodified for a second time later this afternoon, Camden says there is no pressure on Saturday night with the No. 54, so this particular race also presents a great opportunity to enter his first Supermodified main event, which will serve as a shake down for the No. 22 prior to Budweiser Classic Weekend.
"We haven't really had much to celebrate this year with the Small Block," Proud noted. "After the season we've had, we're out of the points race and just hoping to contend for a win. We also realize what a great opportunity Saturday provides to get some laps with the Supermodified. Should testing go well tonight, we are up for the challenge of bringing both cars to the track. Pulling double duty for the first time won't be an easy task, but I'm very much looking forward to my first big block start and the chance to hopefully keep my nose clean, learn, and get some more seat time under my belt."
Proud Motorsports has now filed registrations for both the Supermodified and the Small Block Supermodified ahead of the Budweiser International Classic 200 and Bud Light SBS Classic 75 events coming up in just two weeks. Both races will take place on Sunday, September 2.
'Fast Friday' testing at the speedway runs from 4 to 8pm with racing for the Speedway's $5 admission Track Championship set to green the flag at 6:45pm on Saturday night. Tickets can be ordered by calling the Oswego Speedway box office at (315)-342-0646.
For continuous updates from the track throughout the weekend, be sure to visit online at ProudMotorsports.com. You can also FOLLOW on Twitter @ProudMtrsports or LIKE on Facebook at Facebook.com/ProudMotorsports.