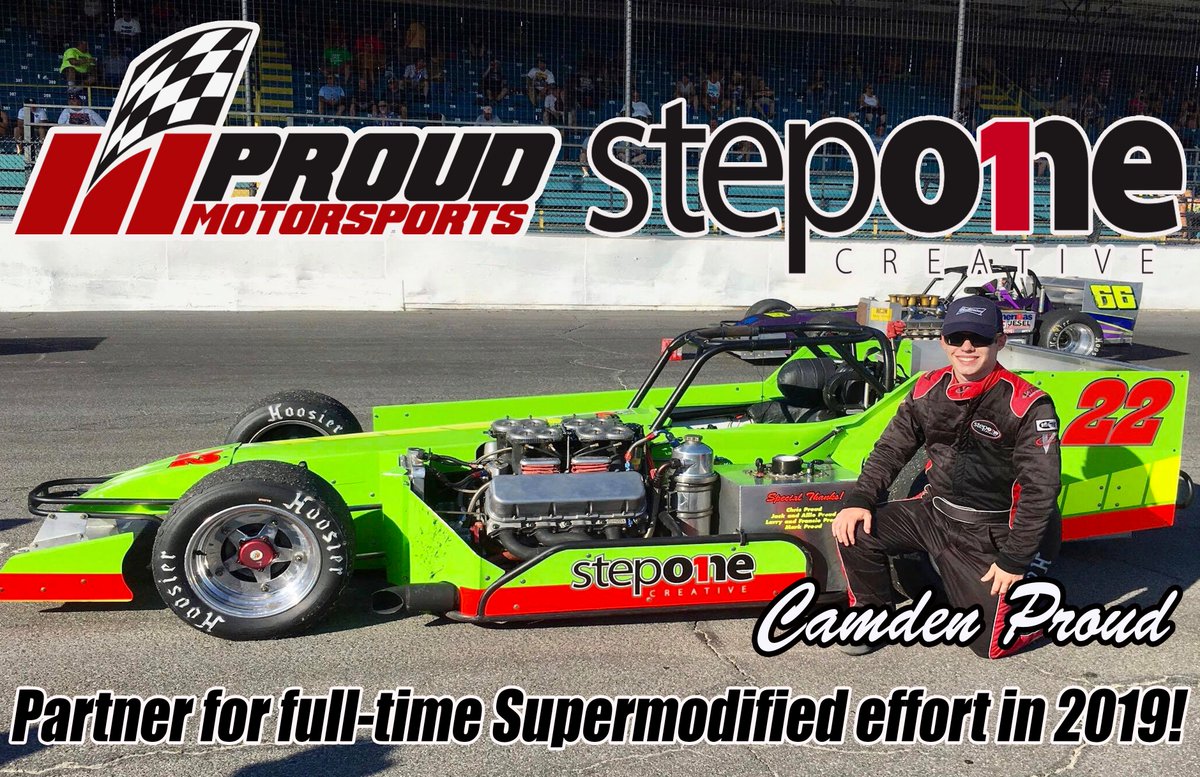 OSWEGO, NY (November 27, 2018) - Oswego based marketing firm Step One Creative has partnered with Camden Proud and Proud Motorsports to allow for a full-time effort in Oswego Speedway's Novelis Supermodified division in 2019.
Proud, a former Pathfinder Bank SBS Rookie of the Year, makes the move to Supermodifieds following five straight seasons of weekly competition with the No. 54 Small Block Super.
Step One Creative served as the primary backer of Proud's Small Block ride for all five years. During that time, the teenaged driver drove to nearly 50 top 10 finishes in 64 career SBS events, plus 14 top five runs which included an unimaginable five second place finishes.
Last year, the now 20 year-old competitor partnered with Ken's Body Shop to acquire the former Strong Racing Supermodified while also continuing competition in the Small Block Supermodified class.
Following a complete transformation to sport a retro green color scheme paying tribute to his father Tim, Proud did double duty on two occasions in 2018. He made his Supermodified debut on Track Championship Night, bringing the No. 22 home in 15th place while also securing a 4th place run with the No. 54 SBS that same evening.
Two weeks later, Proud qualified for his first International Classic with the Supermodified, quickly finding lap times in the sub-17 second bracket. The Speedway public relations director will now attempt a run at Rookie of the Year in the Supermodified division throughout 2019 beginning with the Jim Shampine Memorial Twin 50's on Opening Day Saturday, May 25.
"We're thrilled to work with Camden as he takes the next step in his career," said Shane Stepien, president at Step One Creative. "Our staff at Step One Creative is very proud of the accomplishments Tim, Cam and Proud Motorsports were able to earn through five years of dedication to the Small Block Super class. It will be very exciting to see the team make this transition and aim for Supermodified Rookie of the Year. We look forward to continuing to watch Camden grow both on and off the race track."
With the return of Step One Creative as primary sponsor for what will mark a sixth consecutive season, this will also bring the return of the company's brand to the Proud Motorsports Supermodified. Proud will pilot his Hawk Chassis as No. 54 in 2019, sporting the full Step One Creative color scheme on his ride.
"Step One Creative has been loyal to us for all five of my seasons in the small block class and for that we are forever grateful," said Camden Proud. "As I make the jump to strive for Supermodified rookie of the year in 2019, I can't begin to thank Shane Stepien, Mark Proud and the staff enough for continuing to believe in us. We have had their creative team come up with three different designs for our small block car over the years and are now really looking forward to see how the Super will turn out for the upcoming season."
Thanks to the added support from Step One Creative, several upgrades are now planned for the No. 54 Supermodified over the offseason. Plans include a re-built engine from Finger Lakes Machine, plus the installation of inboard sway bars and all new mounts for 1-1 rocker assembly on the front end of the car which will take place at Hawk Jr. Chassis in Minetto.
"With Shane onboard, we will be able to make some added investments to help ensure the No. 54 is as competitive as possible in 2019," Proud continued. "There is no question that making the move up to the track's premiere division will bring several challenges and a steep learning curve, and it is an honor and privilege to represent Step One Creative throughout that process. I am very eager to put our best foot forward each week and continue to compile solid results for our family team. We're all very excited."
Step One Creative, located at 317 West First Street in the Stevedore Lofts in Oswego, NY, offers full-service advertising design, brand development, public relations, copy writing, web design, and media planning/placement to organizations and businesses throughout Central and Upstate New York.
Proud Motorsports is a Supermodified race team based in Oswego, NY owned by Tim and Debbie Proud. Camden, a 20 year-old driver, has grown into one of the top competitors in Oswego Speedway's Pathfinder Bank SBS division the past five seasons and will strive for Novelis Supermodified Rookie of the Year in 2019.
For more information on Proud Motorsports, you can visit the team's website online at ProudMotorsports.com. You can also LIKE on Facebook at Facebook.com/ProudMotorsports or FOLLOW on Twitter @ProudMtrsports. 
For more information on Step One Creative, please phone (315) 342-2554 or visit their website located at www.StepOneCreative.com.