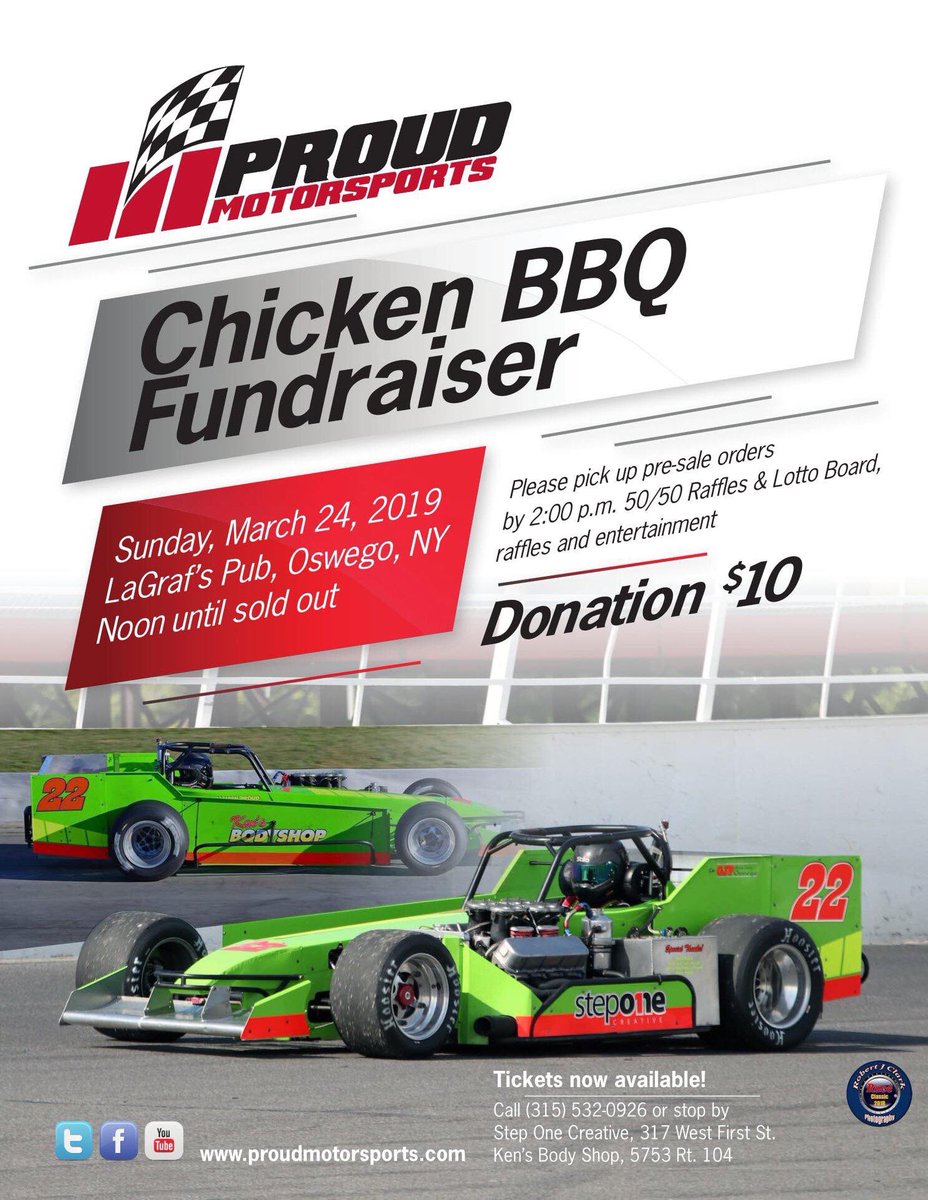 OSWEGO, NY (March 18, 2019) - Proud Motorsports will hold their annual Chicken BBQ Fundraiser to benefit Oswego Speedway Supermodified rookie Camden Proud this Sunday, March 24 at noon at LaGraf's Pub in Oswego.
Proud is a five year veteran of Oswego's Small Block Super division, and will be moving to full-time big block competition this season behind the wheel of the team's No. 54 Supermodified sponsored by Step One Creative.
"The support ahead of our Chicken BBQ has been fantastic so far," Proud said. "I want to extend our thanks to those who purchased pre-sale tickets or donated raffle items and really look forward to seeing everyone at the event on Sunday."
As part of its move to a new venue this year, the 2019 Proud Motorsports Fundraiser will have a handful of additions that include live music from Bob Garafolo and Jim Eckert of 'On the Brink,' plus the chance for patrons to try out LaGraf's Oswego Speedway Supermodified simulators.
Several raffle items and door prizes will be up for grabs throughout the afternoon including from Raby's Ace Home Center, Burke's Do It Best Homecenter, JP Jewelers, Fajita Grill, Oswego Cinema 7, Dino's House of Burgers, Area Auto Racing News, and more.
Pre-sale for the fundraiser is now closed, but you can still purchase tickets at the door beginning at noon. All pre-sale orders must be picked up by 2pm. LaGraf's Pub is located at 187 East 10th Street in Oswego.
Anyone with questions or concerns regarding this weekend's event may contact Proud Motorsports at (315)-532-0926.
For the latest updates from Proud Motorsports, you can visit the team's website online at www.ProudMotorsports.com. You can also FOLLOW on Twitter @ProudMtrsports or LIKE on Facebook at Facebook.com/ProudMotorsports.
Proud Motorsports is PROUD to be sponsored by: Step One Creative, Ken's Body Shop, GJP Italian Eatery of Oswego, Oswego Quality Carpet, Budget Signs, Dino's House of Burgers, Xpress Auto Care, Compass Credit Union, CentralNewYorkMotorsports.com, and Premier Living Suites.