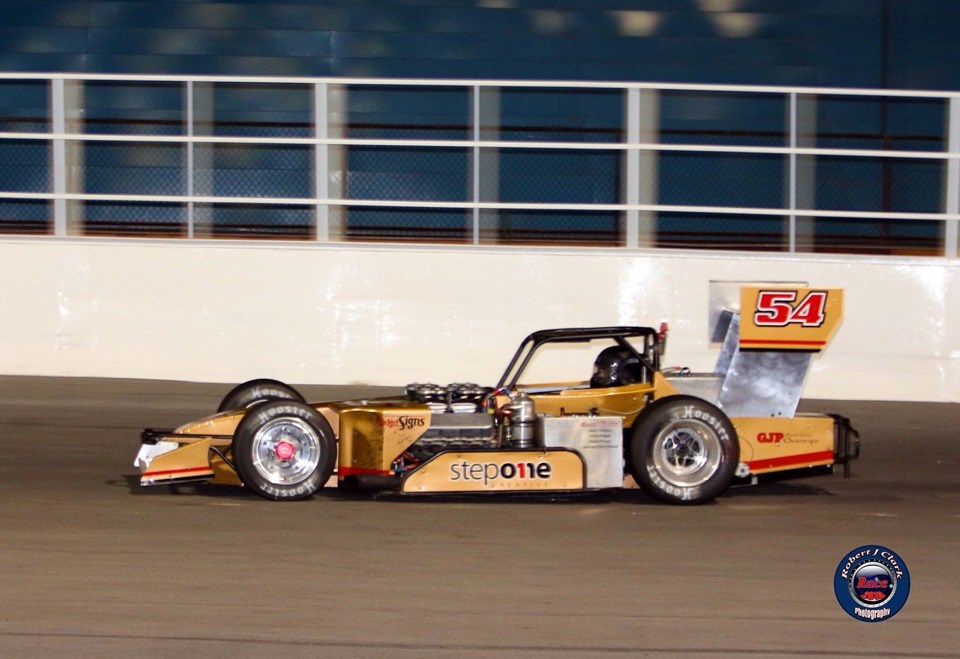 OSWEGO, NY (June 13, 2019) - With four feature events now completed, Proud Motorsports and rookie campaigner Camden Proud will continue their hunt for Novelis Supermodified Rookie of the Year honors in A&P Auto Parts Night at Oswego Speedway this Saturday, June 15.
After the team hustled to repair extensive engine issues prior to last week's Twin 35's, Proud was able to find the 16.7 second bracket in group time trials with his No. 54 and completed both main events in their entirety with finishes of 18th and 15th, respectively.
"I can't thank Doug Holmes enough for helping us get the engine bugs worked out," Proud said. "There are still a few mechanical problems we are looking into, but feel as though we have a starting point and can begin to learn the car. My Dad, Scott, and Doug worked real hard, and the Snyder guys were a huge help too."
With eight feature events remaining on Oswego Speedway's championship schedule, Proud says he is quite a ways away from where he'd like to be. He currently sits five points behind Jack Patrick in the rookie standings and seventeenth overall in 'Road to the Championship' points.
"Having motor problems was a huge set back," Proud added. "It cost us a lot of time that could have been spent working on setup. This a massive learning curve for all of us, but we want to get to the point where we're finishing races competitively. That is the big goal moving forward. We'll keep digging."
On the card this weekend is a 50-lap main for the Novelis Supermodifieds plus racing for the Pathfinder Bank SBS and 350 Supers. For more information on this weekend's event, visit OswegoSpeedway.com. 
For the latest updates from Proud Motorsports, please visit the team's website at www.ProudMotorsports.com. You can also FOLLOW on Twitter @ProudMtrsports or LIKE on Facebook at Facebook.com/ProudMotorsports.
Proud Motorsports is PROUD to be sponsored by: Step One Creative, Ken's Body Shop, Dino's House of Burgers, Budget Signs, GJP Italian Eatery of Oswego, Oswego Quality Carpet, Xpress Auto Care, Compass Credit Union, Premier Living Suites, Pullen's Plumbing and Heating, and CentralNewYorkMotorsports.com.
Saturday, June 8 Results - Novelis Supermodified Twin 35's (Camden Proud - No. 54):
Time Trials - 16.750 - 20th
Heat Start - 7th
Heat Finish - 7th
First Feature Start - 20th
First Feature Finish - 18th
Second Feature Start - 20th
Second Feature Finish - 15th