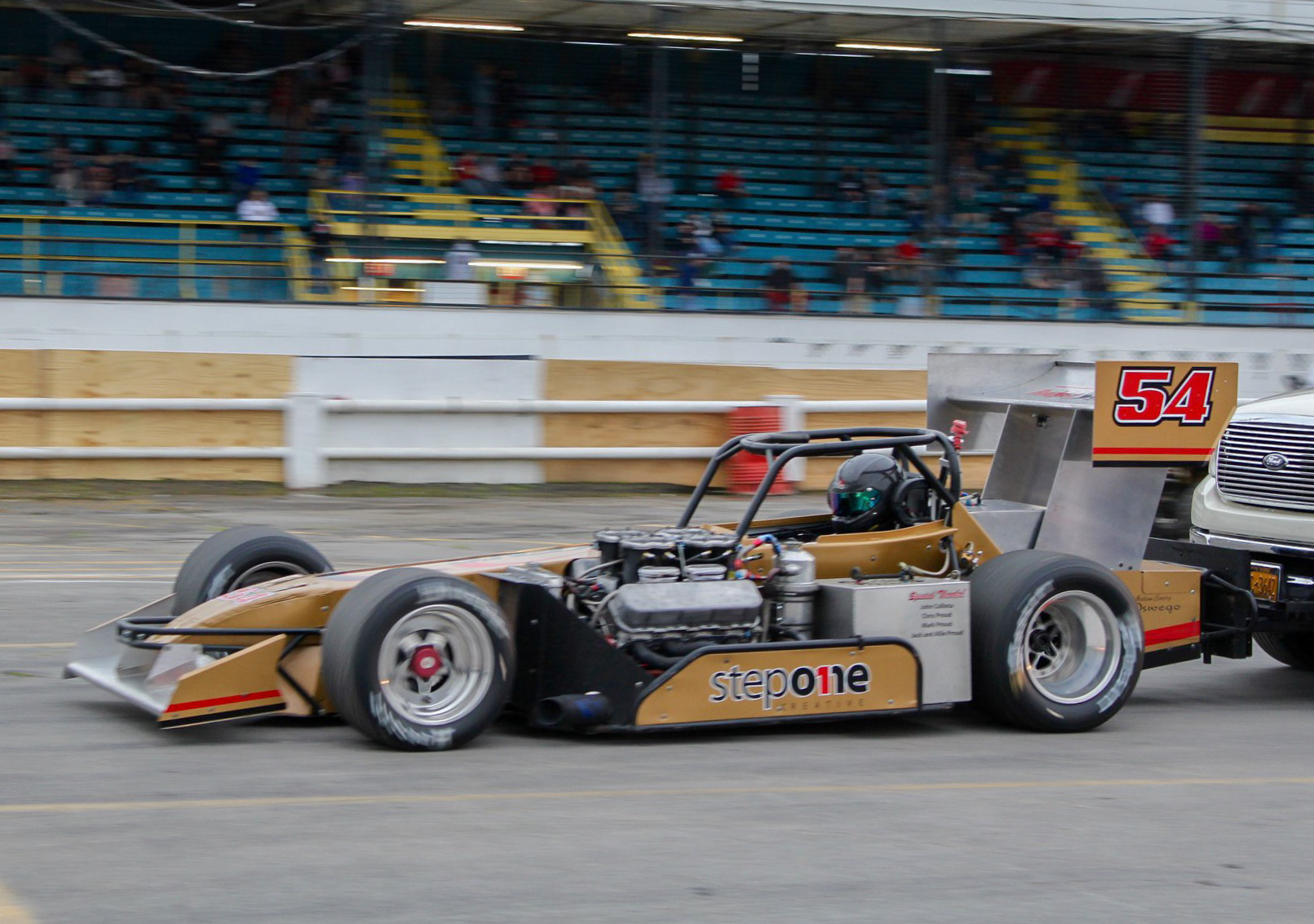 OSWEGO, NY (June 17, 2019) - Novelis Supermodified rookie of the year contender Camden Proud recorded a career best thirteenth place finish in Oswego Speedway's A&P Auto Parts 50-lap feature event held this past Saturday, June 15.
On Friday evening, Proud spent several hours shaking the car down. After a handful of sessions, the team was able to make gains on the Step One Creative No. 54 prior to Saturday's event.
"As a rookie driver, there is nothing more valuable than seat time," Proud said. "Friday was the first time all season that we've really been able to work together and adjust on things. I felt it was the most I've learned since having the Super in our possession and that brought a lot more confidence come Saturday."
With weather in the area, nearly every other race track in New York State cancelled due to anticipation of rain showers, but Oswego Speedway officials remained hopeful, moving Saturday's program up one hour and scrapping group time trials in order to push the show along.
The 20 Supermodifieds pitside were then split into three heat races based on handicap, which saw Proud start in the sixth position for his qualifier. While keeping the field within a half straightaway for the duration of the 12-lap preliminary event, the rookie was again able to clock off laps in the 16.7 second range.
"As silly as it sounds, just starting to keep up with the field was an accomplishment," Proud noted of his heat. "The first week, we were getting lapped, the second week we were within a straightaway, and the third week within half of one. It's those little victories each race that help your outlook on the season."
In the 50-lap feature event, Proud started in the seventeenth position, avoided a first lap incident in turn one, and was able to keep fellow rookie Jack Patrick at bay for a thirteenth place finish. Both drivers have now completed four of the five main events held this season.
"The feature was a great experience," offered Proud. "Starting a row or two ahead of where I have been provided an opportunity to break into open track and battle with Jack (Patrick) a little bit. Obviously no one wants to get lapped, but for now, its going to happen a time or two and I thought we did a much better job keeping up. Even as a lapped car, it is amazing what racing wheel to wheel with some of the experienced guys does for you. It really helps the mental aspect."
Proud now looks ahead to his third and final event of the month, a 50-lap main for the Novelis Supermodifieds plus racing for the Pathfinder Bank SBS and 350 Supers this Saturday, June 22. It is also Autograph Night at the races. All divisions will then receive the night off on June 29 before returning to action for the Holiday Inn Express & Suites Grand Prix on July 6.
"It's hard to believe we have reached the last leg of our June stretch," he added. "Last week, we improved on a lot of things, but the monstrous push we've been fighting was not one of them. That has kind of put us at a stand still, so we're working on getting a new nose wing for Saturday's race. It should help tremendously. We are inching closer to where we want to be and hope to get more and more competitive each week."
For this weekend's program, grandstand gates will open at 4:00pm with hot laps also scheduled for 4:00pm sharp. The autograph session will be held at 5:15pm on the front straightaway. Group time trials will follow at 6:20pm with heat racing taking the green at 7:00pm. More information on the event can be located at OswegoSpeedway.com.
For the latest updates from Proud Motorsports, please visit the team's website at www.ProudMotorsports.com. You can also FOLLOW on Twitter @ProudMtrsports or LIKE on Facebook at Proud Motorsports.
Proud Motorsports is PROUD to be sponsored by: Step One Creative, Ken's Body Shop, Dino's House of Burgers, Budget Signs, GJP Italian Eatery of Oswego, Oswego Quality Carpet, Xpress Auto Care, Compass Credit Union, Premier Living Suites, Pullen's Plumbing and Heating, and CentralNewYorkMotorsports.com.
Saturday, June 15 Results - Novelis Supermodified A&P Auto Parts 50 (Camden Proud - No. 54):
Heat Start - 6th (7)
Heat Finish - 6th (7)
Feature Start - 17th (20)
Feature Finish - 13th (20)