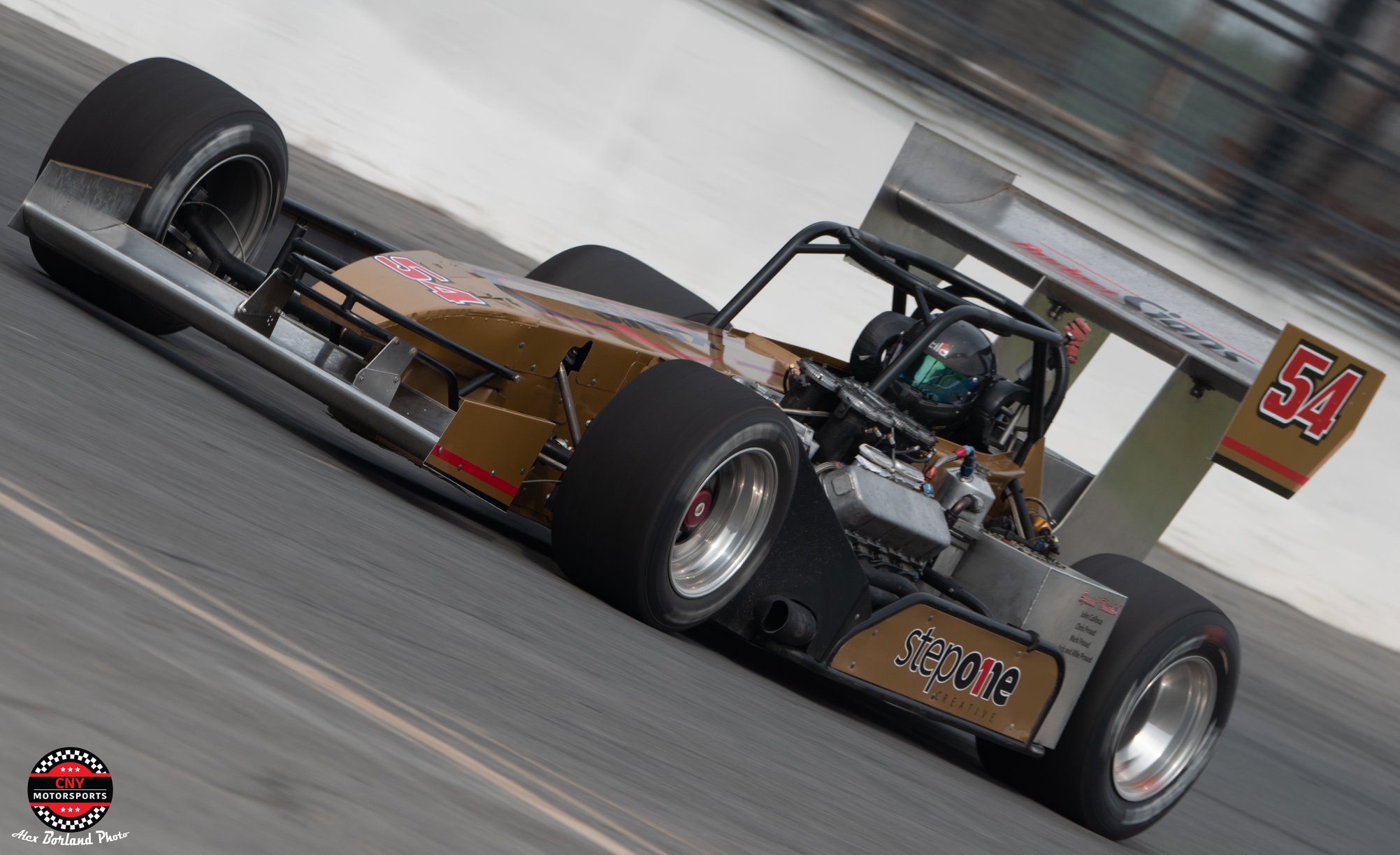 OSWEGO, NY (July 9, 2019) - Novelis Supermodified rookie of the year contender Camden Proud opened up his busy month of July with a thirteenth place finish in last Saturday night's Holiday Inn Express & Suites Independence Weekend 'Grand Prix' at the Oswego Speedway. In finishing the first 75-lapper of his career, Proud matched his career best finish while also taking hold of the 'rookie of the year' standings by just one point over Jack Patrick.
Proud's solid run in the 75-lap extra distance special came after an extended five hour Fast Friday session the evening prior in which the team spent a considerable amount of time fine tuning the No. 54 following a frustrating performance on June 22. By Saturday's group time trials, the 20 year-old was able to turn the fastest lap of his Oswego Speedway career with a 16.464 circuit around the 5/8th's mile. It was also the all-time fast lap recorded by his 2011 Hawk Supermodified.
"For the final race in June, we put a new nose wing on the car and went from one extreme to the other," Proud recalled. "There was just never a happy medium, it was either plowing tight or undriveable loose. Over the off week, Doug Reaume made some more adjustments to the wing and that helped give us a starting point. We got down to 16.7 on old tires Friday and followed that up with a 16.4 on Saturday. For the first time, I felt I at least had something to work with."
In a lightning quick twenty six car field, which saw the top six cars clock in at 15.9 seconds or faster, Proud's 16.4 was only good enough for nineteenth in the overall rundown, which later set lineups for heat races. Camden and his No. 54 finished seventh in the second qualifying heat of the night, setting up what would eventually be a twentieth starting spot in the Grand Prix.
"I was happy to run the 16.4," Proud added. "We're getting faster every week and rolling the car in the trailer so that is very important, but we know we still need three tenths. In time trials, everyone is crazy fast. It's nice to lay down a good lap, but we don't need to go 16.0 or 15.9. If we could turn 16.6 instead of 16.9 at the end of the night when things really count, we'd be in great shape. These cars are so even and the level of competition has made our jobs extra challenging."
In the 75-lap Grand Prix, Proud fought a tight race car, but advanced seven positions to get to thirteenth. By the drop of checkered flag, the rookie had raced side by side with several cars, including seasoned veterans Ben Seitz, Dave McKnight, and Mark Sammut. In the early stages, he also set up the first two passes of his Supermodified career before eventually settling in behind Tyler Thompson, Tim Snyder, and McKnight to go the distance, finishing only one lap down.
"After we found some speed, my only goal for the race was to finish," Proud commented. "To go all 75-laps only one down to the winner was a huge accomplishment in my eyes. I was able to get racy with a lot of experienced drivers and I think that is my biggest takeaway. There never was really a point that I was by myself out there, someone was always behind me or in front of me, so to get that kind of seat time was very rewarding. We have a ton of work left to do, but we're starting to feel better. Its all about making progress."
Oswego Speedway's 2019 season will continue this Saturday, July 13. C's Beverage Center of Oswego is presenting the 50-lap 'Summer Championship' for Supermodifieds, with racing also scheduled for the Pathfinder Bank SBS and 350 Supermodifieds. To learn more, log on to OswegoSpeedway.com.
For the latest updates from Proud Motorsports, please visit the team's website at www.ProudMotorsports.com. You can also FOLLOW on Twitter @ProudMtrsports or LIKE on Facebook at Facebook.com/ProudMotorsports.
Proud Motorsports is PROUD to be sponsored by: Step One Creative, Ken's Body Shop, Dino's House of Burgers, Budget Signs, GJP Italian Eatery of Oswego, Oswego Quality Carpet, Xpress Auto Care, Compass Credit Union, Premier Living Suites, Pullen's Plumbing and Heating, and CentralNewYorkMotorsports.com.
Saturday, July 6 Results - Novelis Supermodified Holiday Inn Express & Suites Independence Weekend 'Grand Prix' 75 (Camden Proud - No. 54):
Time Trials - 16.464 
Heat Start - 7th 
Heat Finish - 7th 
Feature Start - 20th 
Feature Finish - 13th