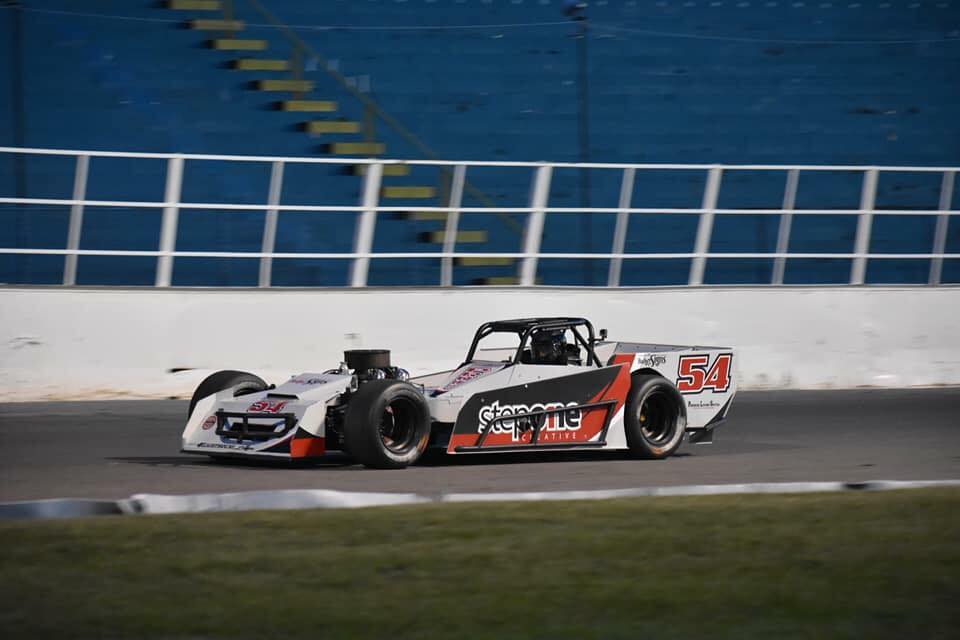 OSWEGO, NY (June 22, 2018) - Following an extremely trying start to the 2018 season, Proud Motorsports has used the graduation break to regroup ahead of Oswego Speedway's Independence Weekend Grand Prix 35 presented by Galloway Century 21 and Oswego D-Bus scheduled for next Saturday, June 30.
Camden Proud returned to the track this past Saturday night following a crash on June 9 and qualified fifth place out of 23 cars with an 18.7 second lap before following that up with a third place finish in his heat to set up a second row starting spot in the main event.
"Coming back one week after a hard crash, we were thrilled to be turning 18.7 and end up that high on the speed charts to start the day," Proud said. 'We drove from the back to the front in the heat race and picked up our handicap so I knew we'd be starting up front for the feature after wrecking out the week before."
The Step One Creative No. 54 lined up in third for the 30-lap main event and Proud drove to second right away before battling Dan Kapuscinski, Mike Bruce, and Russ Brown for the lead until Bruce spun off of turn two and collected Proud prior to the halfway point, causing damage to both cars. Camden was able to recover for an eleventh place finish.
"That definitely was a tough pill to swallow having a sure podium finish go by the wayside last weekend," Proud commented. "The car was virtually perfect and I felt we could have run with anyone. We just need a little luck on our side which has been very hard to come by lately. It was a great battle up front before things went south."
With a week off at Oswego Speedway on June 23 in observance of high school graduation, the next event for Proud Motorsports was set to be at the Spencer Speedway on Friday, June 29 with both Tim and Chris Proud scheduled to be in competition as part of the Lighthouse Lanes SBS Series tour, but that will not be the case anymore.
"Dad injured his hand pretty good changing a tire last weekend and it is actually worse than we thought," offered Camden Proud. "He will be in a cast for the next month or so and can not race or do any lifting or work on the car. Chris will be stepping in to be my crew chief for June 30 at Oswego. We should be able to make it back to the track for next Saturday, but there is no way that we can get both cars ready in time for Friday night. We really needed to rely on each other and will be lucky to just get one of them done at this point."
Moving forward, the focus remains continuing to compete on Oswego Speedway's full schedule with the team's Small Block Supermodified while the primary goal remains a visit to victory lane. Proud Motorsports still hopes to debut the team's Supermodified addition within the next several weeks.
"Right now we are focusing on finishing the remainder of the Oswego SBS season with the Step One Creative No. 54," stated Proud. "It's been a trying start physically, emotionally and financially for all of us so far, but I'm confident our luck is due to turn around. If we can have a good stretch with the Small Block, we still are on track to bring the Supermodified out within the next several weeks, but the priority remains putting our Proud Chassis in victory lane before moving to the other side of the pits."
Currently sitting eleventh in points following finishes of sixth, nineteenth and eleventh to begin the season, the handicapping will again set Camden up with a very good starting position come June 30.
"We should have another great shot in the 35-lap Independence special with what I think will end up being a front row starting spot," Proud noted. "We have a really fast car, it's just been a few racing deals that have kept us from being on the podium so far. You have to believe your luck will turn around eventually and we do believe that when it does we will be contending for the victory so that's why we keep going back. I'm looking forward to a fresh start to begin the summer."
For more information on Proud Motorsports, be sure to visit online at ProudMotorsports.com. You can also FOLLOW on Twitter @ProudMtrsports or LIKE on Facebook at Facebook.com/ProudMotorsports.
Proud Motorsports is PROUD to be sponsored by: Step One Creative, Ken's Body Shop, GJP Italian Eatery of Oswego, Beacon Hotel, Oswego Quality Carpet, Budget Signs, Dino's House of Burgers, O'Connors Main Street Pub, Xpress Auto Care, Compass Credit Union, CentralNewYorkMotorsports.com, Premier Living Suites, Top Quality Construction, and Lighthouse Lanes.